AIA Credit Lunch and Learn Programs
The MJA Company is an approved contractor applicator for several manufacturers that offer Lunch and Learn presentations with one AIA credit given to attendees. All the Lunch and Learn presentations are given by a manufacturer's sales representative.
We are able to offer two presentations on Architectural Concrete:
LM-002 Architectural Concrete in Interior Design:
This program traces the roots of interior uses for architectural concrete and explores the reasons behind the popularity of staining and coloring concrete now used in mainstream building practices, from big box retail stores and other commercial structures to high end manufacturing facilities. Offers 1 AIA credit.
 

LM-003 Architectural Concrete: Ground and Polished with Integral Color, Dyes, and Stains:
This in depth introduction to ground and polished concrete explains the basic principles behind the process. The module addresses LEED project qualifying, slip coefficient, coloring systems, and maintenance. Offers 1 AIA credit.
 

We also offer one presentation on Resinous Floors:
High Performance Resinous Floors and Wall Systems: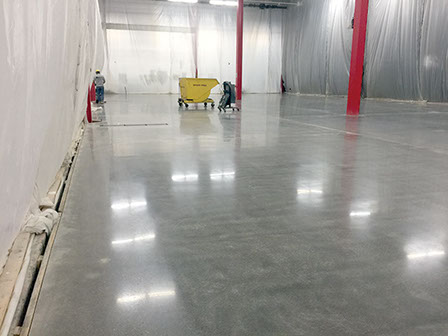 High performance floor and wall systems, including epoxies, urethanes, cementitious urethanes, MMA's, and other chemistries that are proven technologies used to protect and beautify concrete surfaces as well as other substrates.
Offers one AIA credit.
Topics to be discussed include:
Types of Resins/Materials

Systems Configurations and Uses

Selection Criteria

Installation Overview

Critical Success Factors
If you have any questions or want to schedule a Lunch and Learn presentation at your office please call us at
716-831-7091
. Or contact us at
info@themjaco.com
.